Footsteps Of The Poet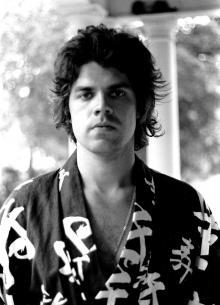 Nearly Fifty years ago I was "gifted" an opportunity to travel the length and breadth of the United States – literally from Portland Oregon to Portland Maine, and places in-between, in the company of two artists, then largely unknown outside their individual creative spheres; Irving Broughton, then a professor of Creative Writing at the University of Washington and publisher of a small literary quarterly and Frank Stanford, a poet from Arkansas whose early work had at that time recently been published by Irving's Mill Mountain Press. This is one story of that journey.
Background.
The road trip itself was grueling one; on freeways and two-lane blacktop for a combined 15 to 20 days; cramped in a two-door sedan packed with books and camera gear, not to mention ultimately 3 passengers; stopping only long enough for food or a break for personal hygiene. So personal interactions at times did became strained – plus Irv did all of the driving. We just chipped in for gas.
Technobabble.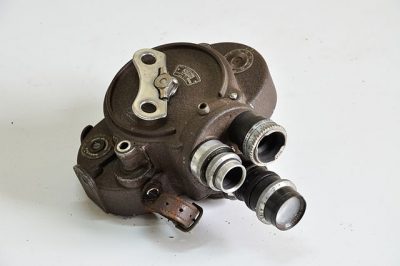 Then there were the logistics issues associated with physically setting up for recording the interviews Irv had planned – interviews which, aside from meeting up with Frank, were the principal reasons for the trip to begin with. Added to that we were working with antiquated gear – even by early Seventies standards – a hand-cranked spring-powered post-WW II Bell & Howell 16MM Filmo camera with no "barney" for soundproofing; its maximum capacity limited to 100 foot reels of film that had to be changed in a black bag in order to prevent accidental exposure; and to my recollection an external tape recorder for sound that in post-production most have proven difficult to sync the recorded audio with the film footage given there was no physical connection between the tape machine and the camera.
Plus while shooting, the camera operator had to keep his/her eye firmly fixed to the viewfinder's eyepiece, otherwise the film could be flash exposed by light reflecting off of the operator's cheek; something that upset Irv – and all of us. Just remember it was still the film era for independent producers. Video tape was still in its infancy. In fact I had then been recently experimenting with a battery-powered camera/recorder unit that utilized 1/2 inch reel-to-reel videotape which was a bitch to set up, not to mention a bitch to edit given the lack of off-line resources to effectively "cut" with.
It wasn't like today where your "smart" phone – more powerful than the room full of computers I used to manage [with lots of technical help] decades ago while in the military – can record 4K video at 60 fps which one can literally transfer to a computer and upload to YouTube the same day. No, a half-century [and more] ago you would have to wait until you got the processed film back from the lab to see your results which, given the technical "newbieness" of our little group, often proved to be less than perfect, much to Irv's dismay.
Group Dynamic.
That Frank seemed frustrated by Irv's perceived attitude toward him as being nothing more than a tripod or camera holder perhaps bespeaks more of Frank's desire for greater literary notariety given the probability that even though Irv, through his small Mill Mountain Press, had published seven of Frank's collections fame and fortune might have been fleeting.
Plus it is also most important to point out that this entire "adventure" took little more than two to three weeks meaning that in such a relatively short time span, it was unlikely that Frank and myself would become BFF's. That being said, I sometimes feel Frank's presence especially if viewing a photo of him; sense the warmth of his smile; hear the soft southern lilt of his voice; and share a laugh with him about Life's absurdities. Charisma.
Coast to Coast.
And what an adventure it was. Traversing the breadth of the country – literally coast-to-coast – much of it along William Least Heat Moon's "Blue Highways"; meeting not only budding laureate Frank Stanford, but two anointed laureates in John Crowe Ransom and Richard Eberhart; then listening in awe while, during separate brief instances, each of spoke of the inspirations behind their specific works.
Subiaco.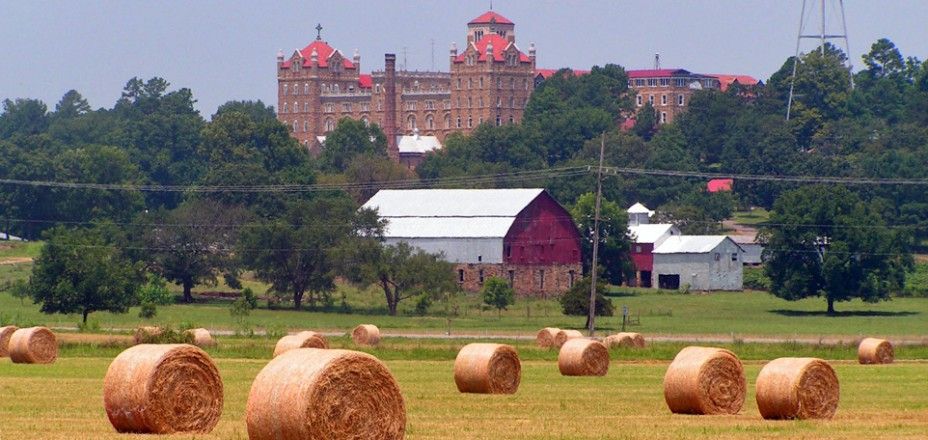 Thinking back on what was then my first foray to the Deep South, evokes sensations of basking in the richness of its settings and undercurrents; the mesmerizing nocturnal drone of its grasshoppers; the enticing odor of fresh-grilled barbecue; the first captivating views of Subiaco Abbey – a Renaissance-era transplant seemingly teleported across the seas from Lazio Italy by divine intervention; images of shooting clips of Frank posing with artifacts in the Abbey's art studio/museum; and later, under the cover of night, the three of us being covertly ushered up the stairs to a monk's room, each wall of which festooned with glowing lights and religious objets d'arte.
North.
Then there was the trip North, the Rivera straining against its load as it wound its way past open pastures bordered by hickory and oak, resplendent fields of corn, verdant patches of tomatoes [which we stopped long enough to snag samples of], dotted here and there by a faded barn or silo or maybe even a Burma Shave haiku or two.
The first stop was Gambier, Ohio at Kenyon College where Irv proceeded to interview laureate John Crowe Ransom in the basement of his campus abode – Frank judiciously monitoring the audio while I did my best to keep my eye socket pressed to the viewfinder.
Then on to Michigan for a brief overnight with my parents whom I felt – to this day – never knew what hit them. I mean how do you know you're in the presence or even the company of a legendary talent? Really? I guess legends take time, no?
The next day's trek to Dartmouth College was a 12 hour marathon re-tracing in reverse a similar route I had taken six years earlier upon returning back home having matriculated from the Navy's Officers Candidate School [OCS] in Newport R.I. The circuit was mostly over Interstate connections, so Frank and I took turns filling the role of navigator. Of course during long treks in cramped quarters, one tends to "multi-coherence" – immerse oneself into a meditative state, mentally and/or emotionally distancing from physical interactions – running old tapes or making up new ones, meaning conversation tended to be minimal at times.
Private Lives.
Frank did not share much of his private life with us that I recall. I do not recollect him opening up about his marriage or even other women – although one might assume that his liaisons with other paramours including musician Lucinda Williams must have been common knowledge among a few of his intimates. Nor did he discuss or ask for feedback on his work, although he did inscribe a Limited First Edition copy of "Singing Knives" for me, first published in 1971 via Irv's Mill Mountain Press. Frank did however seem quite interested in film and visuals – understandable since he and most poets and writers tend to think write, and express themselves in visual terms.
But I was the one at the time who was obsessed with film. I would go see nearly every film the day it opened in Seattle's local movie houses. I had even been asked stay on at U.W. for post-graduate work in Television [they had their own public TV station] but had been accepted into the MFA program in Film and Television at UCLA and most likely waxed on and on about cinematic dreams enough to force both Frank and Irv to "multi-coherence" even more. And this pre-planned subsequent departure for LA LA Land would also play a role in Irv's displeasure with me as well. More on that later.
Hanover.
In any event we arrived in Hanover in late afternoon the next day and proceeded to the campus of Dartmouth College where nearby after a brief search, Irv finally pulled to the curb close to the residence of laureate Richard Eberhart. We stumbled out of the car to stretch our legs and promptly found ourselves literally in the midst of a wedding reception for laureate Eberhart's daughter Gretchen.
After brief introductions to Professor Eberhart and his family, Irv asked if we could film the proceedings, but alas the band hired to perform at the wedding declined to give their consent so we left the camera gear in the car, sat down to enjoy the complementary food and beverages, and commingle with the other guests one of whom was a young woman who hailed from New Mexico and turned out to be a relative of the hosts. Irv and Frank took up with Prof. Eberhart's son Richard B., also a writer who was then actively engaged in the pursuit of a publisher, having sent out manuscripts to various literary agents in New York. After the celebration wound down Irv managed to get us invited to stay at the Eberhart Summer cottage in Cape Rosier, Penobscot Bay, Maine.
Bright and early the next day, I managed to hook up with the female relative from New Mexico once more and together with her brother and his girlfriend, hitched a ride North towards Portland curled up on the rear bed of their pickup truck, grateful to be free from the confines of the Riviera's back seat, and to enjoy both the fresh air and new companionship.
Along the way we stopped at Swan's Falls camp ground whereupon throwing caution to the wind, we boarded a couple of canoes for a brief downstream run of the rapids along the Saco River. Afterwards we stopped along the road to pick wild blueberries and again at a local country store to grab bottles of the area's legendary soft drink "Old Fashion Moxie" – an inspiration for the term "moxie" [or maybe vice-versa] – aptly-named since it took some moxie to swig because of its bitter after taste.
Cape Rosier.
Eberhart's cottage was situated in as picturesque a scene as one could imagine; nestled against the rocky Cape Rosier shoreline with eye-popping panoramas of Penobscot Bay and environs where 100 yards or so offshore gently riding the high tide, a sleek 1920-30's era motor yacht lay at anchor.
After a night of revelry, seasoned with copious quantities of beer and pizza, we rose the next morning and drove into town for some breakfast and regular coffee. If you are from New England you probably know that you can have your coffee black; with cream; or regular – pronounced "regulah" – [with cream and sugar]. And since this was my first time "Out East" I had to have mine regular.
That afternoon we boarded Prof. Eberhart's motor yacht – a hand-tooled and varnished wooden beauty – and with the laureate at the helm proceeded to cruise up the coast while I attempted to capture some footage of Irv, Frank, Prof. Eberhart, and the coastal scenery along the way. Stopping at an inlet where we anchored near the rocky mouth of a local stream that emptied into the Penobscot Bay, Frank and I managed to board the yacht's punt and navigate it ashore where we spent some time on the rocks above the stream basking in the Sun and enjoying some "down time" from the hectic pace of near-constant travel; suspended as if characters in a once-in-a-lifetime time travel fantasy framed by an opaque backdrop of spaces and faces from the Past, seemingly swept along by some creative current beyond our nautical powers, the mad professor Irving Broughton playing the role of Wizard of Oz.
Suddenly we heard shouts from aboard the yacht. The tide had turned and begun to ebb which at those latitudes was both forceful and swift. Just in time, we managed to guide our little craft back to the yacht, board it, and get underway without us either being swept out to sea or the yacht running aground.
Cape Cod.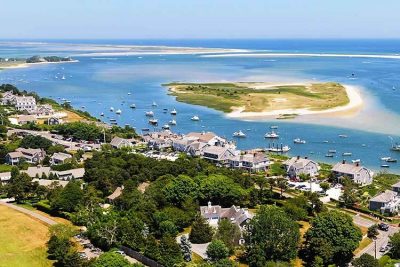 Navigating South through the urban maze of Boston brought back memories of my time in the area six years earlier while attending the Navy's Officer Candidate School [O.C.S.] in Newport R.I. Recollections of buying a blazer, button-down shirt, and khaki slacks at a downtown Boston Brooks Brothers store so I could appear in public as a civilian while sipping a scotch neat at the bar listening to the MJQ at the Jazz Workshop or Roland Kirk at Lenny's On The Turnpike flooded back as we cruised through Bean Town southward and into the crescent-shaped vacation paradise of Cape Cod with its sandy beaches and shimmering ocean vistas, Irv finally bringing the Riviera to a stop in the tourist haven of Provincetown.
Once there as I recall, we stayed as guests of one of Irv's friends; went clamming in the shallows of the Bay off of "P-Town", inscribed our signatures in an autograph book, and slept one night under the roof of an 18th Century colonial-era house – all the while feeling a little like celebrities.
End of The Road.
This was the end of this road for me. I had made plans to return to Seattle, gather up my belongings then head South to Los Angeles for the next phase of my life. This was complicated both because Irv really preferred that I stay given I was the most experienced member of the team at both using a camera and editing film, plus the fact that he had been my landlord. I along with another student had rented rooms in his house on Queen Anne Hill and I needed access to the house in order to retrieve my personal possessions from his basement.
So the fact that I had decided to leave the project had to have been a blow to Irv and maybe Frank as well. Frank and I exchanged letters for a time that Fall, I having requested to use an excerpt from one of his poems in "Singing Knives" as an inspiration for a short 8mm film project and he, giving his consent, expressing a fervent desire to see the results and that we stay in touch. I neither heard from Irv Broughton nor saw Frank again and never saw any of the film footage we had shot.
Epigraph.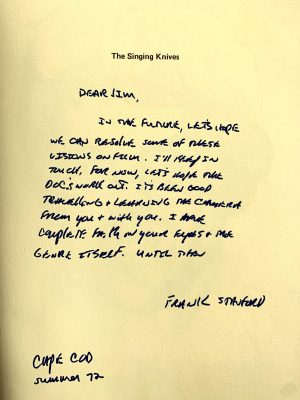 Who knows what was going through Frank's mind at the time? I'd like to think he was ardently imbibing the sensuous elixir of being alive; certainly on this journey it being one of vision as well as of space during which he had met and interacted with luminaries in what was seemingly his creative universe; traversed from the verdant rural settings and the innate voicings and apparitions from his native South so prevalent in his works, on through vast urban cityscapes – both attracted and repulsed by the clamor of its machinations, its overt opulence, its ubiquitous presence. This is a land of inspiration, beauty, and contrast and together we saw evidence of all three in just one three-week time span; on the road like Kerouac and Cassidy a jug of wine in one hand and the world by the ass in the other.
But we were young then – a half century ago. Maybe Frank foresaw what we would become; an empire like so many of the Past: self-obsessive, unequal, deceitful, divided, and deluded by prophetic fantasies of perpetual profits. Remember Jean-Luc Goddard wrote: "Film is Truth Lying At 24 Frames A Second". Maybe Frank knew that film was a chimera that could not be a true path for him or anyone for that matter, which if accurate would indeed have been prophetic since today many of us have come to realize that we live in an era in which opinion has become fact and the aphorism "Truth Is What I Say It Is" prevails.
James Babij
San Franciso 2020.